Pokémon Go hardly needs any introduction. We know what is it about, what actions does it involve, and are even somewhat familiar with the franchise behind it. But it is not exactly clear what are the factors that had led it to a level of unprecedented virality. The game design and user experience is not even close to being sophisticated, so how did it gain its current user base?
On The Surface…
Technology is incredible! (and its Pokémon)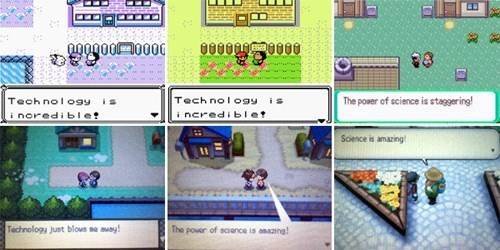 One could argue that the utilization of augmented reality technology is what that sets it apart from other entertainment apps. It is easy to imagine that any form of new technology is naturally exciting and is likely to sell well. But is this actually the case?
Augmented reality is actually not even close to being a fresh technology. A quick search will reveal that it may actually have half a century's worth of work on it, and has been outside the science labs for at least half a decade before Pokémon Go's official release. Might want to point out that most of us cannot name more than two augmented reality applications. 
The tech behind it has been simplified to the point that any modern smart phone capable of running the newer versions could run it without major issues (excluding battery ones). On that note, it is highly likely that most users do not even enable the augmented reality camera throughout the play process other than the first few instances or for the purpose of creative photography.
So what we are left with is essentially half a map navigation app….with virtual creatures emerging as you physically travel….with higher mobile data and battery power consumption.
Another surface factor is that it is based off the second best-selling entertainment franchise in the world: Pokémon. Yet, Pokémon was only popular among the gaming community and the sales figures of its titles are not exactly improving (in other words, it is dying). Being a Pokémon title itself could not entirely explain the phenomenon that its audience involves people who have outgrown the franchise and those who are not even fans of the franchise to begin with.
Under The Human Bonnet
Herd Mentality
Let's skip some of the more obvious ones like the fact its free to play and easily downloadable from Android. Pokémon Go is, at its essence, an entertainment app. This also means that by default consumers do not have strong opinion about a choice (in this case, to download and play the game), they are more likely to follow whatever choices other consumers are making. This somewhat explains its virality even among former fans and complete strangers to the franchise. If you are not really against it because of information risks or it being a distraction from other things in life (or it somehow threatens your fragile faith), there is a good chance you will feel socially obliged to install the game simply because of social pressures.
Nostalgic Sentiments
The emotional region of the brain (amygdala) and the part responsible for memory (hippocampus) is highly connected to each other, allowing for the formation of autobiographical memories. This means that memories about your life cannot be disconnected from emotions, allowing us as unique human beings to relive these moments as we reminisce.
So are most memories of playing Pokémon Red, Blue, Yellow, tightly knit to mostly pleasant emotional states throughout gameplay.  
This is known as nostalgia, the state of reliving a past memory to remind us of times where things are more pleasant, allowing us to cope with the emotionally difficult present moments.
Variable-Ratio Schedule of Reinforcement
For the most part, Pokemon Go rewards players with Pokemon encounters on a after a uncertain amount of walking. This is known as the variable-ratio of reinforcement: reward is given after a random amount of input. The input for this context is walking as walking in general drastically improves the encounter rate of Pokemon, but the amount you have to walk before being rewarded is uncertain. According to the partial reinforcement schedule theory, this leads to high and steady response rate (a lot of walking with Pokemon Go), because the unpredictability signals that there is always a chance that the next few steps will result in an encounter.
Going Out Gamified
At it's very core, I would describe Pokemon Go as a 'gamification of the process of going out'. The game has clearly structured tasks, goals, and levels, along with signals of achievement. While it is blatantly obvious the entire experience is a game, the process of play requires one to attend to real life (walking) rather than turning away from it. This concept is known as gamification, the utilization of game design elements in non-game contexts and systems for the purpose of human motivation. The entire goal of Pokemon Go is to motivate us to go outside and being rewarded with Pokemon as a virtual signal of achievement (similar to forum badges). For some of us, the presence and structure of the game is so powerful and overwhelming to our senses that there may be trouble distinguishing reality and fantasy, or real life and game. 
Possible Directions of Pokemon Go
As a staunchly loyal Pokemon fan, Pokemon Go in many ways is like a childhood dream blooming into reality. Through this piece of writing I wish to briefly outline what are the possibilities Pokemon Go can grow into, to help gamify this world into a more pleasant place. Socializing could be improved through implementing features that allow players to trade and interact in other ways than battling. One good way is to give players the option to gift 'Rare Candies' to Pokemon of other players, or implementing the 'Mail' option in the main series Pokemon titles, allowing trainers to send friendly messages to each other through trading Pokemon. Perhaps as more elements from the main titles gets ported over to Pokemon Go, we could see more improvements in both game design and user experience.